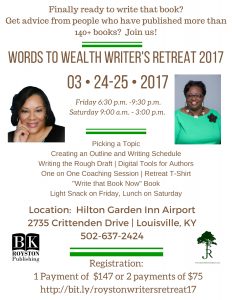 Words to Wealth Writer's Retreat 2017
Thank you so much for registering for the Words to Wealth Writer's Retreat 2017!  Let's go!
Location and Logistics:
Contact the hotel immediately to reserve your room.  Ask for Beth in Sales regarding the hotel rate and mention the Royston Writer's Retreat!
Hilton Inn Airport Hotel
2735 Crittenden Drive
Louisville, KY
502-637-2424
Bring your laptop, notebooks and any writing samples.  Be sure and dress comfortably.  This is a relaxing, working and learning atmosphere.  My hope is that you will be able to create, write and be on the road to completing the book that God intended for you and the world!  Any questions, email us at bkroystonpublishing@gmail.com or call 502-802-5385.  Excited!